How necessary are Janitorial Company Newsletters to the success of your business? In your own mind, you can make a case for or against just about anything and be satisfied with your decision. "It's time consuming, it costs money, probably no one will read it anyway, blah blah blah." Then be content with your decision, right or wrong. Let me challenge you to make a right decision concerning all things, but specifically Company Newsletters.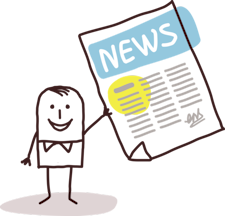 As the Good Book tells us to spread the "good news" and admonishes us to focus on, "whatever is good, admirable, excellent or praiseworthy, to think and report on such things." In the same spirit, a "Good Newsletter" that recognizes and praises employees for outstanding performance, perfect attendance, anniversaries or birthdays, just to name a few, is invaluable to your company as a whole!
In the janitorial business, especially, where only one or two employees are assigned to a single building with little or no contact with other employees, newsletters are a great way to keep them feeling part of the team. Let me give you my Top Company Newsletter sections, (in no particular order), that have shown the love to my many employees and customers over the years!
Customer Spotlight: We send our newsletters to our customers as well. We highlight one of our customer's facility managers in each of our monthly newsletters. We put their pic and a brief Bio of them. We tout their good qualities and what a pleasure it is to team up with them. Everyone loves to see their name and pic in print and it strengthens our business relationship. Win-win!
Helpful Customer Tip: Things such as, "Did you know that using Roll Towels vs Multifold Towels, Jumbo Roll Tissue vs Household Toilet Tissue can save you 20% in annual supply cost?" They (accurately) view your company as a valued partner in keeping their costs in control, plus you're seen as an expert in the industry.
Employee Milestones: New employees, 6 month, 1 year, 2 year, 5 year anniversary, birthdays, etc.., whatever to put their name in print. As I said earlier, everyone loves to see their name in print, for whatever reason.
Employee Praise: If you, one of your supervisors or a customer reports an exceptional job done well, performance, or anything good about your employees, tell it/give a shout out in your newsletter.
News Updates: "We were just awarded the contract for ABC or XYZ companies", "We just implemented such n such software to better serve our customers and employees", etc. Shows your employees and customers that your company is highly in demand and the real deal!
Safety Tip: Reminders to put out wet floor signs at all times, never push down on trash cans with your hands or how to deal with a bloody spill at a medical job site all convey that you as a company are concerned with your employees safety and well being.
Crossword Puzzle: You can find these all over the internet to copy and paste. Try to use questions and answers that are cleaning related. Such as, what floor cleaner is best to use on waxed floors..? Answer: Neutral Cleaner. I was actually surprised, but people love crossword puzzles!
Offer Services to your Customers: Let them know that you offer janitorial supplies, residential carpet cleaning services, tile/grout cleaning, etc.. You will get extra work.
Training: Offer reminder monthly training tips, such as restroom training, vacuuming, detail vacuuming or dusting tips. Keep emphasizing the basics!
Message from President: Offer an encouraging word to your biggest asset, your employees. Give an uplifting message that inspires from you or a quote from someone that inspires like Zig Ziglar, that said "people don't care how much you know, until they know how much you care, about them".. Inspire and empower your employees!
Spread the Good News my friends. Month after month. You won't be sorry, I guarantee it!