Congratulations, you're about to "Set the Price of Your Janitorial Proposal."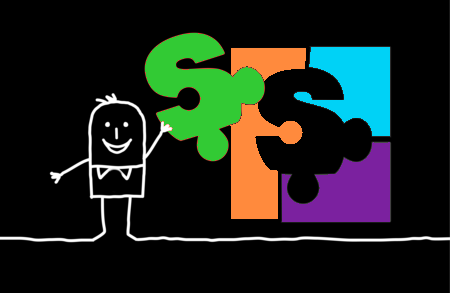 That is, AFTER you've first determined and calculated all of the total monthly costs and expenses to clean the building (as described in my Count the Cost of your Janitorial Proposal post). Only then are you ready to SET YOUR PRICE and MAKE A PROFIT!
Profit Note: A profit is selling a product or service for more than your cost of producing or providing it. Your price consists of your total costs plus your added profit. i.e. (Total Costs/$2500) + (Added Profit/$800) = (Your Price/$3300)
My Pricing Pointers: In this Blog Post, I'm focusing on how to determine a Fair, Healthy Profit and set a Competitive Price. To anyone who knows me or has read any of my blog posts, it's probably no surprise that I'm a man of faith. And based on my faith – along with 30 years of experience in the Janitorial Industry – here are my Top 7 list of factors to consider when determining a "Profitable" Price:
GET WISDOM: "How much better to get wisdom than gold, to get insight rather than silver!" I would much rather gain the knowledge to earn a $1000 profit than to have someone give me $1000 and never know how to duplicate that $1000 again. "By wisdom, a business is built, and by understanding, it is established." If you're going to be in the janitorial business or any other type for that matter, you'd better gain wisdom, understanding, and knowledge! You can acquire wisdom, I have faith in you! (Plus my blog posts are free…)
DETERMINE YOUR TOTAL COSTS: Again, you must "Accurately" determine and calculate all of the total monthly costs and expenses to clean the building before you set your bid price. If you calculate total expenses at $1000/month, then set a price of $1500, that's a nice $500/month profit! But, if you miscalculated the costs and it actually ends up costing $1250/month, then your nice $500/month profit dwindles to a mediocre $250/month profit. Calculate it right from the beginning! Keep in mind that it's imperative and "your job" to keep your costs down. Through proper work loading of labor, chemical dilution systems and cost-effective supply chain management to name a few, cost control adds to your bottom profit line.
ESTABLISH YOUR PROFIT/PRICING POLICY: This is basically, what are your guidelines to determine and set a price. Such as, "nothing less than a 40% profit margin on specialty work like carpet cleaning and floor waxing, 30% on janitorial, 25% on supply sales, etc. Also, you need to have a minimum "cost markup in $." A combination policy would be of a $500/minimum cost markup or a 30% profit margin, whichever is greater. It's better to lose an unprofitable bid than to lose money on it each month. You must be profitable in business!
YOU'RE WORTHY OF A PROFIT: I shouldn't even have to include this in this blog post. But sadly, so many people – consciously or subconsciously – underestimate their worth. They're wrong! I believe this truth with every fiber of my being and spirit. If you put in your hard work, sweat equity, liability risks, along with all of your wisdom, understanding, and knowledge, you are worthy of a profitable return on your investment!
BE BEYOND REPROACH: Be honest and have integrity in all your dealings. Treat your customers like you'd like to be treated in pricing, and you'll establish loyal, raving fans that will recommend you to others!
BE AT PEACE: You've used wisdom to calculate your costs. You've established a fair, profitable pricing policy. Now simply be at peace, confident that you're prepared to set a price!
SET YOUR PROFITABLE PRICE: Keep in mind, it's better to have a handful of profitable accounts than a basket full of unprofitable ones. All that's left now is to set the price of your janitorial proposal. Just make sure it's a profitable one!
For your consideration: If you're content with the way you've been calculating your costs and setting your price," that's great. But if you're looking for a proven competitive edge – my automated best practices – I encourage you to try a free 30 day trial of CleanlyRun Janitorial Bidware.
Check us out at CleanlyRun.com… Let's grow your business!