Ask Drake
Grand Master Janitor

With the truly, humbling success of CleanlyRun (aka CleanGuidePro), we've received a lot of questions (from companies all over the world) about a variety of topics in the janitorial industry. Allow me to share yet another one of them with you.
Hi Drake: I'm new to the cleaning business, and I have a couple of questions. Does "lot size" mean "square footage"?  And how can I find the square footage of a building without measuring, but rather searching the business information?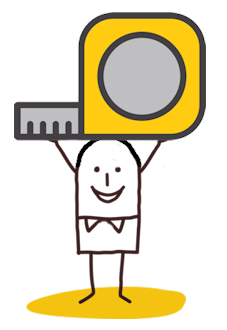 Answer:  First, thanks for growing your new business with us! I'm glad you asked about these metrics, because it's knowing the cleanable square footage that is key for your janitorial bid.
First, lot size is the size of the land, rather than the size of the building that sits on it. Total building square-footage is the actual size of the building, which may or may not be the same number as the total cleanable square footage.
You can get the total facility size in any number of ways: from your potential customer (e.g. pre-bid info pack), by counting ceiling tiles (2′ x 2′ or 2′ x 4′), or by using a measuring wheel or fancy laser meter.  However you derive this figure, it would be due diligence to double check it on the local property appraisers website.
However, your client may not need you to clean every square foot of their facility. For instance, a medical facility might restrict you from cleaning rooms that contain special equipment. So you can determine the cleanable square footage by scheduling a Pre-Bid Walkthrough.
I think of janitorial bidding as an art as well as a science, and it took me a long time to hone my bidding skills and determine what produced the most consistent and accurate results for my business. It always came back to starting off with the exact cleanable square footage for the job. In my experience, when I took on a job without knowing the exact area that I'd be cleaning, too much guesswork often caused me to lose money on the job. In some cases, I was essentially paying someone to clean their building.
So decades later, that's why we designed our online bidding system, CleanlyRun Janitorial Bidware, based on the expectation that every effort has been made to get the proper figures for the cleanable square footage. For me, this is a basic requirement to bid a job.
And don't be afraid to politely ask the client for a little more time for due diligence during the walkthrough. I've never had any prospect tell me no when I've asked to walk the building on my own in order to make some calculations, review some areas and/or take additional notes. It helps you tremendously and lets them know that you're thorough.